[align=center]
A Review of Bombardier's Visco Lok Differential
[/align]
[align=center]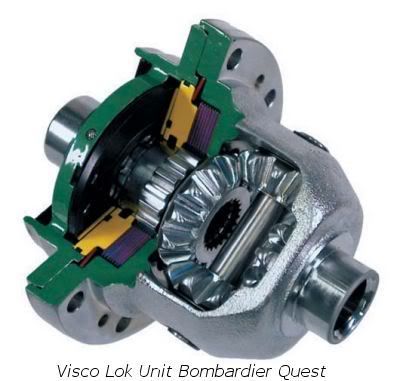 [/align]
[align=center]
Visco Lok differential from Bombardier Quest

[/align]
[align=left]Having ownedthree Bombardier Outlanders,I feel I have had enough experience with the Visco Lok front differential to write a short review.
[/align]
[align=left]I suppose I can start with a quote from Bombardier.
[/align]
[align=left]
"Bombardier ATVs' four-wheel drive system is the most intelligent in the industry. Visco-Lok constantly monitors front wheel speed and, if it detects one wheel spinning faster than its mate, it progressively sends more power to the wheel with the better traction. And it does it all without the rider even having to lift a finger."
[/align]
[align=left]That is exactly true. Push the 4wd button and it works when needed and disengages when not needed. The big benefit to having this differential is with the 4wd button engaged,you have"3wd" or an "open"differential. This makes steering and handling very easy and also gives the extra traction of the 3rd wheel being driven. When things get a bit tougher going and you start to lose traction, the Visco Lok will sense the front wheel is spinning and lock in the other side. Now you have a locked front end, true 4wd to help claw your way out of that nasty mud hole.
[/align]
[align=left]This works very well in most situations, however, there are times when a "true locker" is superior to the Visco unit. For example: say you are climbing a steep technical rock trail. You start spinning enough to lock in the front dif. and things start goingOK, but you have to let off the power. Now you are back to "3wd" and have to spina front wheelagain to lock it. This is a situation where you do not want any wheel spin and a true locker would be much better.
[/align]
[align=left]The Visco Lok only locks the front dif as long as you are on the gas. When you let up, it reverts back to "3wd" or open differential. This is because when the ViscoLok pumps up, the front end is locked in true 4x4 until you stop spinning, then the oil pressure bleeds off to unlock the front differential. This is the only downside of the unit that I can see. Although itcan be abig downside, if you are in that situation.[/align]
[align=left]Here is a quote from the company, GKN Viscodrive:
[/align]
[align=left]
"The new Visco Lok LSD features an uniquely designed self contained viscous shear pump that provides tremendous freedom in specifying the level of torque transfer that is provided at any particular speed difference. Small torque transfers can be provided at very low speed differences to improve handling while high torque transfer with immediate response reaction is available at higher slip speeds due to its new progressive characteristic.
[/align]
[align=left]
The clutch pack is engaged by an unique patented viscous shear pump which is a self contained silicone fluid pump which generates a pressure against the piston based on a speed difference across the pump unit. The pump is 100% filled with silicone fluid and requires no servicing."
[/align]
[align=left]TheVisco Lok is a huge improvement over the standard "open" differentials inotherATVs that claim to have a limited slip dif, but usually,really only have 3wd.[/align]
[align=left]Pros:
[/align]
[align=left]The Visco Lok is a no-brainer. Just push the 4wd button and go. Steering and handling are very easy with it engaged and you don't have to stop to engage a locker. In most situations, the Visco unit works very well and for most riders is an excellent, true 4wd system.[/align]
[align=left]Cons:
[/align]
[align=left]When in a situation where no traction of the front wheels can be found, the Visco Lok senses both wheels slipping, therefore it doesn't know which wheel to apply the lock to and it takesa few rotations of one of the wheels beforeit will thenlock both wheels up and you will go . You have to stay on the gas or it will disengage back to 3wd.[/align]
Another (probably better) explanation:
From JimJa43in this
THREAD

Code:
Kevin, Technically you are correct, but from a practical standpoint so are those espousing the 3-wheel drive formula. And you are a smart guy so you know exactly what's being said here.

It's really about torque, not power per sea. In a situation where the front wheels are spinning and the vehicle is not moving, torque is applied to both front wheels equally and the wheel with the LEAST traction determines the amount applied to the opposite front wheel which receives the SAME amount of torque as the wheel with the LEAST traction. Presumably the wheel with the least torque is not getting enough POWER to the ground IOT move the vehicle. Posi-traction, excuse me, Visco-Lok, is nothing more than a limited slip which under the above situation gradually raises the torque to BOTH front wheels until the wheel with the GREATER traction begins to either spin or move the vehicle.

With a direct connection between the front and rear axles, and the rear axle locked, which they all are save for Polaris' turf mode for their side-by-side model, torque is split between the front and the rear.

So everyone is right here. Kevin, you are of course technically correct, but from a practical standpoint, it really is 3-wheel drive since the torque is applied to the wheel with the least amount of traction, which will not provide the power required to get the job done. But you know that...
[align=left]More info on the Visco Lok technology:
http://www.a1.nl/phomepag/markerink/viscolok.htm
[/align]
[align=center]Images and some information have been gathered from the web. The author makes no claims as to the accuracy of this article. It is provided as a review in the opinion of the author only.[/align]
[align=left][/align]